Finally, an estate agent that works for you
We know what it's like to deal with our industry, that's why we strive to rise above and be your reliable, down-to-earth independent estate agents in south London.
Local people, local expertise
South London is where we grew up, it's where we live and now, proudly, it's where we serve.
We're a team of local experts who can call on over 25 years of experience in the Streatham, Croydon, South Norwood and Tulse Hill property markets. We've seen the place change, we've watched it grow and we know what to look out for on your behalf.
We don't just see ourselves as an extension of the community, we feel we are a part of it. That's why we get involved as often as we can by sponsoring local schools, hosting communal events and of course, giving homeowners a hand when it comes to our specialist subject.
Our world revolves around you
When you walk through our doors, you're not just another number on a sales board. We see a person we can help. We'll treat you like an individual, taking special care to fully understand your specific property needs and concerns. We do this because you're unique, so we need a bespoke solution that will tick all your boxes.
After a warm welcome and a cup of coffee, we'll tailor a strategy to achieve your property goals, then we'll go out and make it happen. Typically, moving house or letting a property is a stressful affair – not with us, we take the sting out of it and do all the heavy lifting so you can just relax.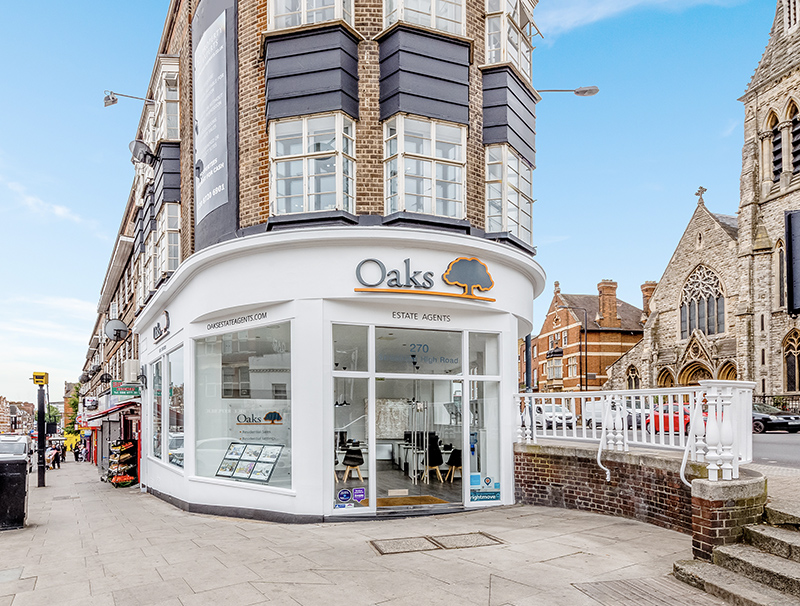 Why Oaks?
Here are just a few reasons why people use us!
The Reviews Are True
We've got an unbelievable, unblemished track record in the South London property market. A browse of our online reviews will give you an insight into how happy our clients are with our service and style.
Our reputation is epitomised by our two directors, Gabriel and James, as they are emblems of what makes Oaks so great and so different. Since starting the business, their work ethic, servitude, strategy and personality have spread throughout the team and consistently struck a chord with our customers.
Make an Enquiry
We're here for you. Just call, message or visit.
One of our friendly team members will be delighted to help you.
Contact Us